4 min read
12 Key Points for Successful Migration to Atlassian Cloud
By: DEMICON on Aug 4, 2021 1:43:59 PM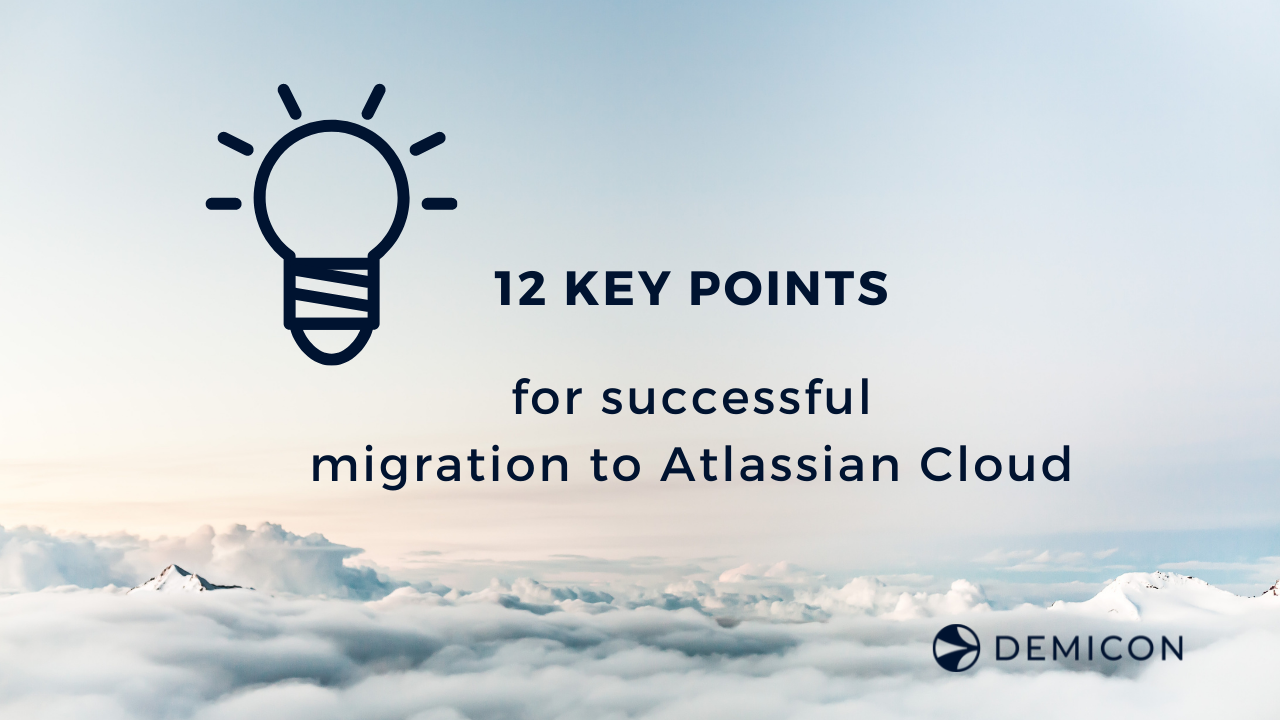 For organizations looking to get one step ahead within their industry, moving to the cloud offers countless benefits, including reducing time to market and lowering costs. Cloud technology gives companies a competitive advantage by maximizing their IT budget, building new efficiencies, and increasing team output.
Leading research and advisory company, Gartner, predicts that 80% of all enterprises will have already migrated over to the cloud from on-premise servers and data centers by 2025. Having said that, planning for this migration process can feel overwhelming.
Allow us to help to build your Cloud & IT infrastructure strategy.
Fortunately, this process can be stress-free when knowing the main points to look out for. Here are 12 key points to successfully migrating to Atlassian Cloud:
1. Audit Your Licenses
Currently, there are different advantages, benefits, and possibilities that you can take advantage of when migrating to the cloud. Of course, you can directly buy cloud licenses and go straight to the cloud. But, by working with experts like DEMICON, you'll receive free advice about your possibilities to take advantage of the best offers you can get for this migration. We will analyze the different factors that impact the final price of the licenses, and we assure you that you will get a professional analysis of the best options available.
2. Conduct Initial Analysis for User Migration
What is the current status of your users, groups, roles, external users, LDAP directory, third-party software? What security measures do you need to consider, and what are your general policies for migration?
To understand where the current pain points and opportunities are, it's good to have a deeper understanding of the correct User Tier, where to reduce costs, how to maintain a high level of security, and a clearer workflow for the onboarding and off-boarding of users.
If not conducted properly, this will generate numerous problems. There are specific strategies for user migration that must be followed and certain processes to maintain to avoid causing errors in your cloud setup.
3. Audit Your Applications
This is one of the points with the most significant impact on migration. A correct audit will allow you to save time and consulting costs; it will enable you to understand the current state of your system and existing applications and build your vision for the future.
One of our objectives is to ensure your stay in the cloud must be better than the previous infrastructure. For this reason, we will not only analyze the application and its features, migration possibilities, and current usage but also help you to optimize the business cases related to the applications - in the cloud, you will find new functionalities.
4. Check the Data from Your Current System
You want to migrate to the cloud, but why? It's good to understand your data, and the more you know, the more you'll save on costs and time. At DEMICON, we can help you understand your data and advise you on your most suitable options.
5. Understand the Complexity of Migration
Understanding the actual complexity of the migration is necessary for you to be aware of its scope, how it impacts your business/system, the different factors that affect it, and how the decision-making will vary the complexity, time, and costs. For us, it is vital to transmit all this clearly; giving clarity to our clients about the process and ensuring everything is as transparent as possible is crucial to avoid surprises and mistakes.
6. Identify Critical Data (Applications and Key Functionalities)
We actively collaborate with Atlassian and the app vendors because we know the importance of critical processes. If, for whatever reason, you'd be forced to postpone migration to the cloud (although very rare), will we aim to solve any bottlenecks or communicate clearly if now is not the right time.
7. Begin Analysing the Instances
It's good to gain an understanding of your instances. Are there multiple instances or just one? What is the level of customization of these instances? Are they hosted on a server, in a Datacenter or the Cloud? Should a merger take place or not? What are the products of these instances? An expert consultancy like DEMCION will help you figure out these questions.
8. Figure Out Your Current Situation
Are you using a trial? Is there a timeline? What is the impact of downtime? What are your priorities, and how can they be aligned with the migration timeline? What is the status of external users? Are there any integrations between systems? What are the extra security layers?
9. Create an Initial Plan
Developing a well-structured initial plan means lower costs, higher speed, and fewer errors. Creating a roadmap with clear tasks, a checklist, and critical points that must be planned and developed in a concrete way. Forget about improvising, we must plan and carry it out following a clear methodology with phases and processes. This will eliminate errors and will give you clarity on the different processes of each phase.
10. Select a Migration Strategy
Four different strategies exist for migration, each one with its advantages and disadvantages. It's crucial to select a migration strategy that works best for your business in terms of time and money.
11. Choose the Right Tools for Migration
There are different tools to utilize for migration and should be chosen based on their effectiveness and strategy. These tools have obvious functionalities and will be the best for some situations and worse for others. We will help you make the right decisions to get the best results for a lower cost while being as time-effective as possible.
12. Work with a Trusted Partner
The last and possibly the most crucial point is to have a trusted partner by your side, with experienced, qualified staff to help guide you through the whole process. One that understands your vision and your objectives.

Contact DEMICON for an initial analysis - we will help you migrate and guide you towards making the best possible decisions.