One vision, one team.
We are always on the lookout for new talents who share our values and our vision of making people's lives easier.
______
Teamwork
makes the dream work.
For us, there are two kinds of superstars: our customers and our team with all their expertise. We have two goals: one, to provide our customers with excellent advice and two, to have fun during the process. To ensure this, we invest in the health, training and satisfaction of our team members by offering lots of perks and benefits.


What we offer you*
Support in realizing your personal and professional goals.
Many different employee benefits - because we care about your wellbeing.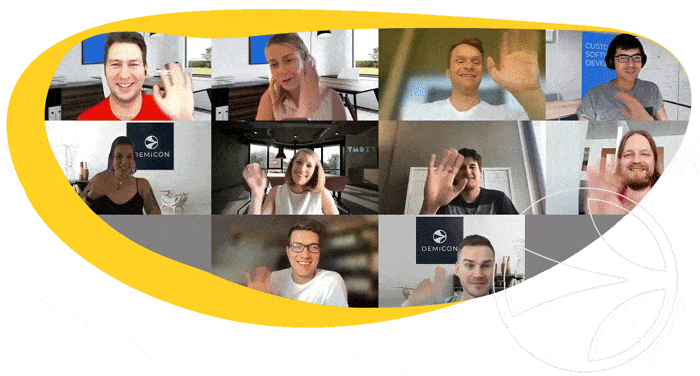 Flexible hours & remote working
Results mean more to us than a fixed work schedule. Whether you're at the office, on-the-go, or at home: We want you to work in an environment in which you feel most comfortable, and that supports you in doing your best work.


Budget for professional development
It's simple: Your success is our success. This is why we have generous budgets for career development in place which allows you to grow your skill set and develop personally and professionally alongside the DEMICON team.


All the tech you need
Whether it's hardware, software or office equipment - We provide you with everything you need to work with maximum productivity from day one.


Family first
At DEMICON, family is a top priority and personal issues are always considered. Therefore, we offer our employees special leave in the case of a family emergency.

Teams & Opportunities

.
We believe that a strong team is the key to long-term success. We are proud to rely on so many dedicated colleagues.



Teamspirit
Despite our different professional backgrounds and job titles, we feel united here at DEMICON: one team, one company. Every day, we work together and help each other develop personally and professionally. Everything we do is interconnected, as we believe in empathy, and that teams thrive the most when knowledge is shared.


Excellence
Learn with purpose, work with passion. We believe in the 'wow' factor, and that it's important to never stop learning, because excellence can only be mastered through continuous development, openness and curiosity.
Let's grow side by side, and let's become even stronger together

!
Let's grow side by side, and let's become even stronger together! Our company culture has been shaped by our values since 2008. And we live them every day.


Independence
We DEMICONIANS are independent and courageous. We know the importance of taking risks, making tough decisions when needed and asking questions in order to achieve exceptional results. Thanks to our no-micromanagement philosophy, we are engaged and productive, even when working from Mount Everest!


Integrity
Our 'give before you take' mentality has shown us that honesty and transparency are crucial for building trust. When trust is gained, loyalty is returned. This is one of our guiding principles at DEMICON.


Fun
Last but not least: It's simply fun to work with us. At DEMICON, life never gets boring. Humour, good vibes and a healthy work-life balance allow us to give our best for our customers every day.

Are you ready

?
Here's a sneak peek of what to expect during our recruiting process.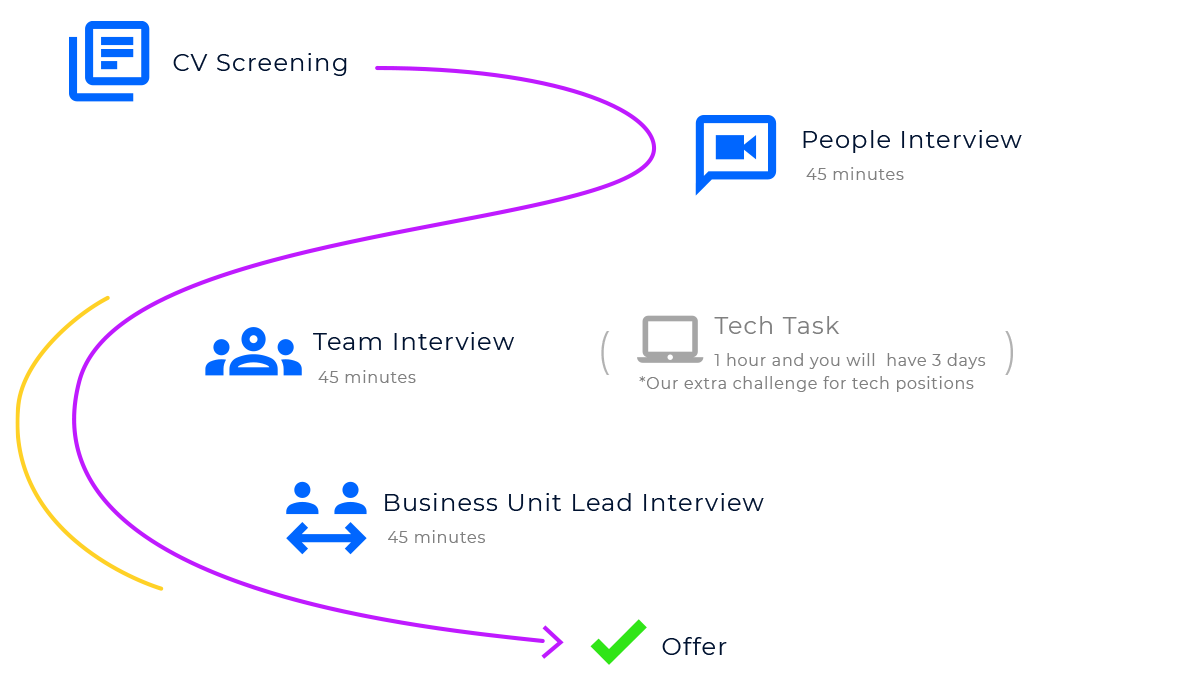 Onboarding >>

Multiple stakeholders are involved in the onboarding of a new team member. We truly care about the quality of your integration experience, which is why we have created a booklet for our leaders. It ensures an efficient and high-quality onboarding process, which we believe is achieved through professional, social, cultural and technical integration. Your start at DEMICON is divided into the following phases:


Pre Onboarding
Review of documents
Set-up of accounts
Coordination of meetings
Drafting of the onboarding plan



Day 1
Welcome Day presentation
Get to know the team
Discussing expectations
"Meet the new teammates" event
Week 1
Meet your buddy
Meet important stakeholders
Get to know our clients
'First week done' event
1st, 3rd, 5th month
'First month done' event
Meet more stakeholders
Review 1 after 30 days
Review 2 after 90 days
Review 3 after 150 days

_____
We are DEMICON.
We support our customers across Europe in transforming and digitising their project and business processes.
As an Atlassian Platinum Solution Partner, Amazon Web Services (AWS) Consulting Partner and a leading monday.com partner, we are one of the biggest technical consulting teams and one of the leading full service providers in the DACH region.

DEMICON is an employer that stands for equal opportunities. We consider all applications regardless of your origin or background.

Join our team and become a DEMICONIAN!