______
Schön, dass du da bist.
Wir suchen dich zur Verstärkung unseres Teams als

Cloud Developer DevOps Engineer
(x/w/m)
Remote
full-or-part-time
You really get into the flow working in the cloud with Terraform and Linux? Then you've come to the right place. We are DEMICON, one of the largest technical consulting teams and leading Atlassian full service providers in the DACH region.

Become part of a new team at DEMICON with a focus on cloud technologies. We stand for innovative solutions for our customers in the enterprise and midmarket. This includes individual consulting, architecture and development. Be there from the beginning and join us in building up our Cloud Native / DevOps area.


Was wir dir bieten

*
Wir unterstützen dich dabei, deine persönlichen und beruflichen Ziele zu verwirklichen.
Wir bieten dir viele Benefits – denn dein Wohlbefinden liegt uns am Herzen.
Mobile working – 100% location-independent working is not a new trend for us, but an integral part of our working philosophy
Trusted working hours – we have no compulsory presence and no core working hours
Equipment according to your wishes – modern collaboration tools and software, laptop, cell phone and home office equipment - everything is included
30 vacation days – because your rest is important to us
Fixed-term contracts? Not with us! – Unlimited employment contracts are a matter of course for us
BahnCard 25 – despite homeoffice we want you to be able to meet your team easily
Active creative possibilities – with us you are heard. One of the latest initiatives of one of our colleagues has become an NGO project!
You like to be active? So do we! Whether it's the Urban Sports Club, qualitrain, yoga or running – we think exercise is great and we support you!
Want more DEMICON vibes? Then check out our career page and finally apply :D

Was dich erwartet

.
Mentoring and collaboration with the dedicated cloud architects to develop solutions for complex/large workloads
Supporting the infrastructure development process for our customers: You will ensure all infrastructure components are properly configured, follow internal best practices, and continuously monitor automated alert systems
IaC (Infrastructure as Code) development based on Terraform
Infrastructure automation, configuration, maintenance and control (orchestration) of these programs
Implementation of reliable monitoring systems and a proprietary module library
Growing team and opportunity to put your talent and ideas to work
Gather user requirements to build the DevOps roadmap and deliver a world-class customer experience

Wer bist du

?
Wir interessieren uns in erster Linie für dich und deine Expertise. Dein Wohnort oder deine Bildungsabschlüsse spielen dabei nicht die erste Geige.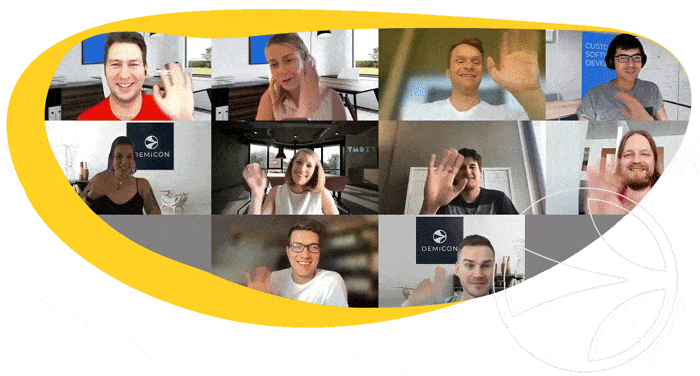 4+ years work experience in AWS (AWS Lambda, API-Gateway, StepFunctions,Serverless, EC2, VPC, ALB, NLB, EKS )
Extended Knowledge in IaC Tools like Terraform or Cloudformation
As a team player, you like to take the initiative and proactively implement your own suggestions
Strong knowledge in Software development, project work and business processes
You have experience with Continuous Integration and Continuous Delivery tools like Gitlab
AWS Associate/Professional Certifications is a big plus
You have profound knowledge in one of these programming languages: Python & Golang
Ideally, you have experience with administration of Linux/Unix and Linux-based on-premise infrastructure
Are you a good communicator, both in German & English? Then you are in good hands with our international customers and our diverse teamIdeally,
you have a degree in computer science, business informatics, media information or similar - however, with the appropriate qualifications or work experience, the degree is irrelevant to us!
Ready for your future at DEMICON?
Then apply now as Cloud Developer / DevOps Engineer (x/w/m). We are looking forward to getting to know you!


Werde DEMICONIAN

!
Cloud Developer DevOps Engineer
(x/w/m)

Remote

full-or-part-time

Viktoriia Rybakova
Employer Branding & Talent Acquisition Specialist
___
Weitere Offene Positionen